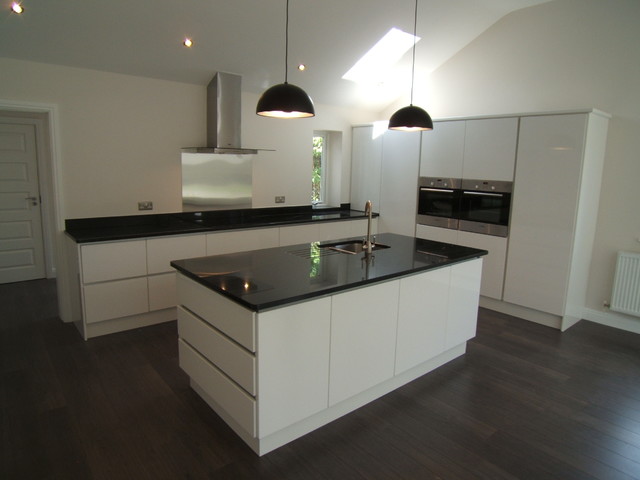 Choosing the ideal kitchen island worktop for your kitchen can be a difficult task and there are a number of considerations to take into account when making your decision. In recent years kitchen islands have become increasingly popular for modern day kitchens. They offer a beautiful focal point for your kitchen, as well as a large practical space to prepare, cook, and entertain guests. As well as considering the aesthetic qualities of your
kitchen island, it's also important to consider how it will function. We will be looking to guide you through some key pointers to help you choose the right kitchen island for your kitchen.
Planning your islands function?
Whether you are an cook, food-tech or tend to use your kitchen spaces as an area to gather the family together or entertain guests on special occasions, a kitchen island can serve multiple purposes. Traditionally the kitchen was an area for preparing food, though in recent years they have become an increasingly popular social area and living space for many homes. With this in mind it is important to consider how your kitchen island will function; would it be an area for preparing food, storing cupboards and appliances, or an additional area to entertain guests? If you are looking to house the dishwasher and other appliances in the kitchen island then the sink, and other assets such as the bin should also be close by. However, if your island is looking to serve more of social purpose then perhaps you might want to consider seating, wine and drinks chillers or breakfast bar options.
Whatever your design, remember to consider the "kitchen work triangle". This is a concept that is commonly used to map out kitchen layouts. It takes into account the primary areas of focus in the kitchen – the cooker, kitchen sink, and refrigerator. These three points, and the imaginary lines between them are what experts refer to as "the kitchen triangle".
Consider hight 
With any kitchen island its don't forget to consider height. If are looking to have bar stools then a height of around 36 – 42 inches would be recommended. You may want to consider having the island designed in two levels, with one side set lower in order to aid food preparation and prep work, and the other higher to accommodate for any seating options.
Think about space
A strong focal point for any kitchen is space. Both the open floor area around the island and either side of the island require careful planning to ensure that there is enough space to manoeuvre. If you're planning on housing your sink in the kitchen island then you would also need to plan for the extra plumbing costs to extend the lines of any water pipes, whereas a smaller Island can be a useful way to incorporate extra seating areas, cupboards or extra storage.
Storage
The amount of storage you may need depends on the rest of your kitchen layout. If you already have ample storage place then you might want to use your island as more of a work and social hub, ideal for preparing food whilst also entertaining guests. However, if you have limited storage space, a kitchen island can also serve as an ideal storage area.
If you are planning to house any kitchen appliances in the island, such as a kitchen sink or dishwasher, then make sure this fits in with other core elements of your kitchen design, and be sure to consider "the kitchen work triangle". With the Kitchen being one of the busiest areas in the home, serving a multitude of different functions and planning the placement of your kitchen island is crucial.
Tsianfan industry has a team dedicated to providing you with the most cost effective solutions for design and manufacturing stone sample boards,stone sample case and other stone sample packing products.More info ,please click our website:stonepackingcase.com